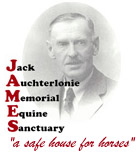 We would like to acknowledge those individuals or organizations that have contributed to JAMES. Whether it be a monetary donation, a donation of time and/or services, or just taking that extra effort to see that a project is completed on time, we sincerely thank you for your thoughtfulness and the horses appreciate and benefit from your generosity.

Mr. & Mrs. J. F. Graham, San Pedro, CA
Beth Nikodem, Orange County Web Design; CA
Laurie Smith, Service Insights; Lake Forest, CA
Dan Slaby, Slaby Construction; Landers, CA
Mike Rose, TUFF Shed; Santa Ana, CA
Mike Morrison, SCE; Yucca Valley, CA
San Bernardino County, Land Use Services Department, Building and Safety Division; Yucca Valley, CA
Cheyenne & Rick Hepler, Desert Discount Corral; Sky Valley, CA
Lorrie & Art Parker, Pioneer Feed; 29 Palms, CA
Connie & Dave Mock, Mock Brothers Saddlery; Yucca Valley, CA
Lorie Erickson, Desert Cowboy; Yucca Valley, CA
Ken Schauppner, Desert Trail Newspaper; 29 Palms, CA
Shelley Licata, Downey Savings; Yucca Valley, CA
Lisa Madden; Yucca Valley, CA
Donnie Miller; 29 Palms, CA
Norm Smith; Yucca Valley, CA
Lisa Hislop, Lake Forest, CA
Tony, Beth & Quinn Di Leva, Aliso Viejo, CA
Robert LeMaster Grading, Norco, CA
Southern California Pipeline Construction, Tustin, CA
Carolyn Curry, Vandenberg AFB
Betty Barnett, 29 Palms, CA
Karnig Braun, 29 Palms, CA

A special thank you goes out to all who have donated trees:

Vicki & Justin Branson; Tustin, CA
Common Ground; Huntington Beach, Ca
Pam & Deni Crow, Lake Forest, CA
Lorrie & Pat Gleason, Lake Forest, CA
Shannon Goss; Lake Forest, CA
Lisbeth & Findlay Graham; Rancho Palos Verdes, CA
Andrew Johnston; Gualala, CA
June Johnston; Gualala, CA
George Johnston; Gualala, CA
Lisa & Ed Cisek; Lake Forest CA
Charli & Larry Hislop; Mission Viejo, CA
Jarod Goss; Trabuco Canyon, CA

There are so many people that have been instrumental in helping us get JAMES started, if we have accidentally omitted you, please send us an e-mail so we may acknowledge your efforts.

.............................................................................

A very, very special thanks goes to our webmistress, Beth. This awesome lady was the first to offer her time and talents to JAMES by setting up and maintaining our webpage. Although not familiar with horses at the onset of our undertaking, Beth continues to be unwavering in her research and inquiries in order to better understand and serve the horses that benefit from rescue facilities. With her commitment, tireless efforts and timely suggestions, she is truly an invaluable part of our success and we can't thank her enough!